USS Endeavour
Registry No. NCC-71805
Type: Nebula Class
---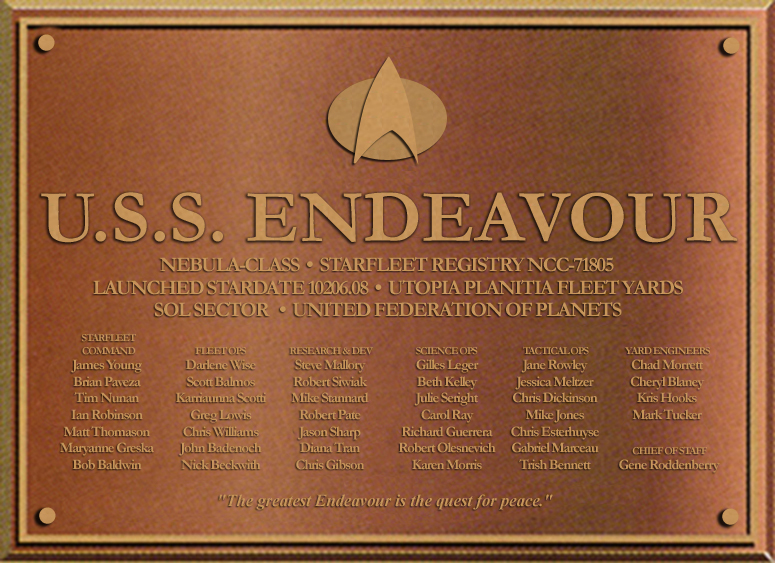 The USS Endeavour NCC-71805 has a long and honourable history. In 2367, under the command of Captain Amasov, the Endeavour was the only ship to survive the battle of Wolf 359 intact. A year later, the ship was involved in the Tachyon detection grid, designed to prevent Romulan ships infiltrating Klingon space during the Klingon civil war.
Shortly afterwards, Captain Amasov was promoted to the admiralty and his then first officer, Commander James Mackenzie was promoted to captain and given command of the ship.
During the Dominion war, Endeavour served with distinction, having been given orders to get out there and cause as much trouble for the Dominion as it could. In February 2375 the Endeavour answered a distress call from the Orinoco, a freighter under attack by several Jem'Hadar ships. The distress call was also answered by a Klingon bird of Prey, the IKS Hegh'Ta.
The two ships teamed up together for the remainder of the war, sharing crew and resources. Hegh'Ta's science officer was offered a field promotion to commander and temporarily transferred to the position of First Officer on the Endeavour, a promotion that was later endorsed by the Klingon High Council and Starfleet Command.

After the war, due to the success of the cooperation between the two ships, Endeavour was assigned to serve with the Tenth Klingon Fleet, an assignment that led to the formation of the Federation/Klingon Rapid Response Fleet.
The ship is currently under the command of its former first officer, Kehlan sutai Inigan, who now holds the rank of Rear Admiral.